Efter två utvecklande och framgångsrika säsonger flyttar nu Lunds huvudtränare för herrelit Manlio Puxeddu hem till Italien igen. Vi är väldigt glada och tacksamma för dessa två säsonger där Manlio tagit med en stor dos internationell erfarenhet och professionalitet till föreningen.
Här nedan kommer ett tackbrev från Manlio till Lunds VK.
Trevlig läsning och Grazie mille, Manlio!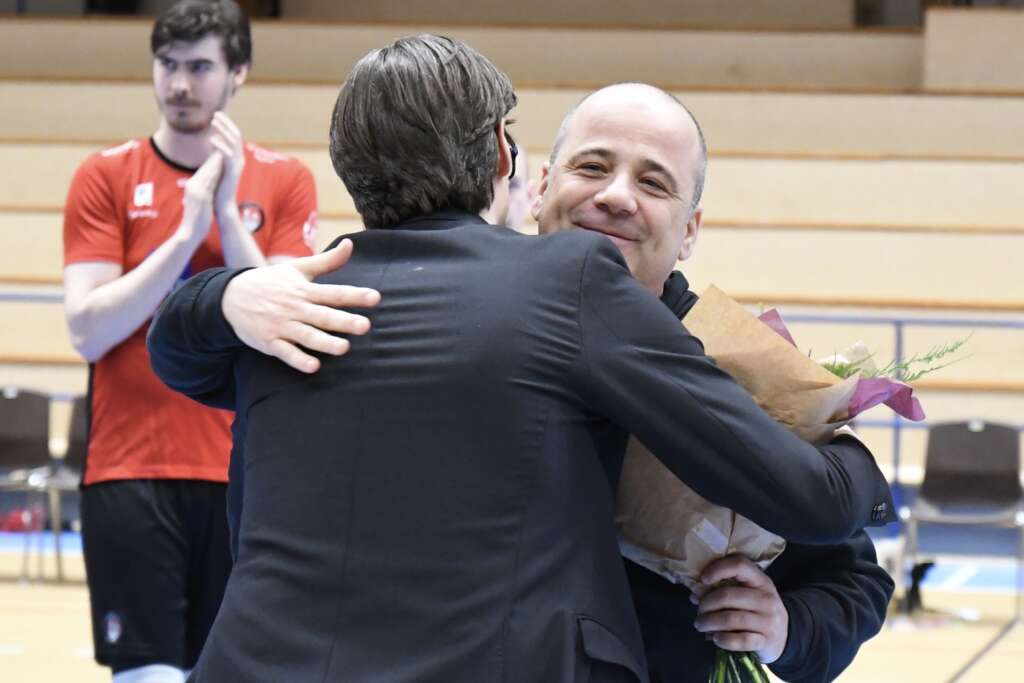 Foto: Manlio avtackas av klubbchef Stefan efter säsongens sista match! (Fotograf: Petter Borna)
********************************
Ciao Lunds VK,
After two seasons, it's time to say goodbye. For me, it has been a very positive experience both professionally and personally.
In the first year, I coached a younger roster with less experience than previous seasons. The roster was very unbalanced, and not all the players, because young, were ready for a daily professional commitment. With some adjustments and through hard work and determination, we overcame all the difficult moments. We finished the season with 4 wins in the last 6 games, which indicates that we grew as a team and never let go of our training. We even became U23 Swedish Champions by defeating Sollentuna in the final.
In the second year, I built the team together with the board and we selected players not only for their CV but also for their professional mentality. We continued to grow and push ourselves, and together we achieved all the goals we set ourselves, we ignited enthusiasm in the audience, and it was a great sight to see the kids cheering us on with all their hearts. I am extremely proud of my players. Those who played less than the others or played very little had a vital role in making our training sessions of a high standard. For that I am eternally grateful.
Fredrik, Viggo, Przemek, Otto, Slawek, Sebastian, August, Erik, Johan, Martin, Patrik and Simon.
You are Amazing!
I also want to thank the B-Team sparring players: Valdemar, Melwin, Tizian, Emil, Gustav, Alex and Giacomo. Thanks to Jacob who often traveled from Ystad to train with us.
Thanks to Chris, Henrik, Petter and Eric for assisting me in training and games. Thanks to the Lunds VK board, you supported me from the first day to the last. Thanks!
Thanks to Arianna for making this experience possible. Thanks to Mirjam, statistics responsible, assistant coach and friend: you are a shining jewel in the windy and rainy Lund!
We had the best season for Lunds VK, and I am confident that the best is yet to come for the club!
Good luck, Lunds VK!
Best regards,
Manlio Puxeddu