LUNDAMIXEN 2023
Volleyball tournament for co-ed teams!
Here is the preliminary schedule for Lundamixen 2023.
Teams signed up:
1- Team 4
2- ChuppaChups
3- BSC Hanse e.V. 1
4- BSC Hanse e.V. 2
5- Nelikumpsi
6- Ohana
7- FlajtDajvers
8- Alpha
9- Vintervila
10- Serve-ivors
11- Asian Invasion
12- Strawtown
13- Swift sets
14- Nättrollen
15- VB Superstars
16- Worldwide
17- The Ace-Holes
18- Volleybolleywood
19- Flying without a license
20- Bad Knees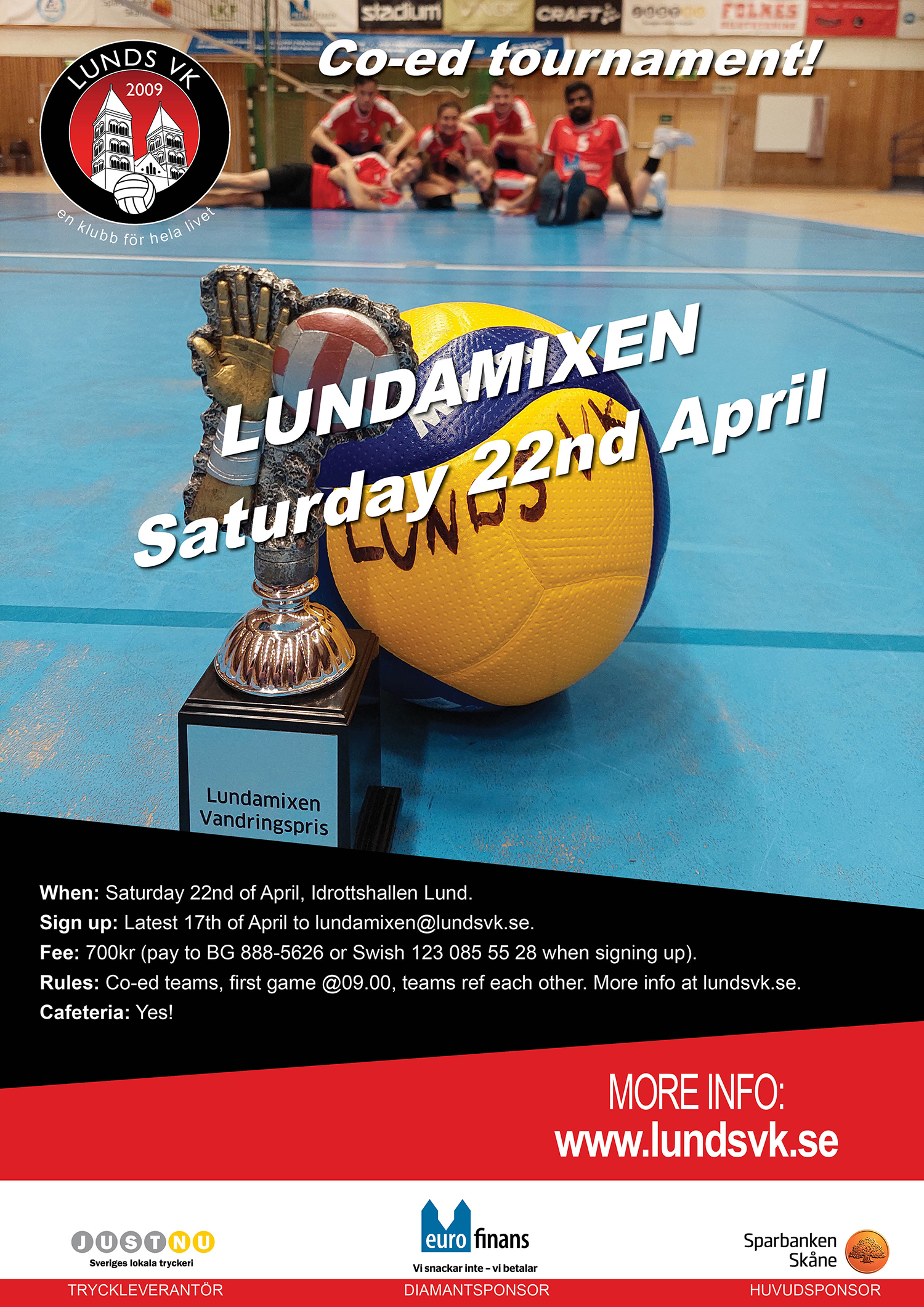 Time and place: Saturday the 22nd of April, @09.00, Idrottshallen (Högevallsgatan 1), Lund
Sign up: Latest 17th of April by emailing lundamixen@lundsvk.se. We need the name of your team and contact information to the team leader.
Fee: 700SEK (pay to BG 888-5626 or by Swish to 123 085 55 28) when signing up.
Rules: see below
Cafeteria: There will be a cafeteria with hot dogs, sweets, coffee/tea etc.
Questions? Email lundamixen@lundsvk.se
Everybody is welcome – sign up now! 
Rules:
first serve @09.00
co-ed teams
minimum 5 players on the court (if you are more than 6 players you rotate in a new player at the serve)
max 3 guys on the court at any point
players cannot take part if under the age of 35 and playing in division 1 or, regardless of age, play in the elite division
libero is ok if the team has 7 or more players
best of 2 games in the pool play (25, 25, starting from 0-0 – win by one point)
best of 3 games in the playoffs (25, 25, 15 starting from 5-5 – win by one point)
net height at 2,35m
teams ref each other
5 minute warm-up at the net before each team's first match
no stepping over the serving line
volleyballs are supplied by Lunds VK
Have fun and be kind to each other!